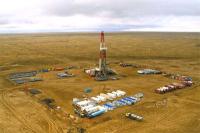 Tethys Petroleum Limited announce the retirement of Russ Hammond, non-executive Board Director of the Company. Russ will retire on his 73rd birthday on October 15, 2014.
Dr David Robson, Chairman of Tethys, stated: "Russ has been a director of the Company since 2006 and during this time his practical advice, insight and considerable knowledge of financing and of the oil and gas industry has been invaluable to the Company and to me personally.
Although Russ now feels that it is time to retire, his input to the Company will be sorely missed and I do hope that he is able to continue providing us with his wise counsel."