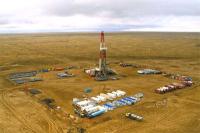 Tethys Petroleum Limited's wholly owned Kazakh subsidiary, TethysAralGaz LLP (TAG), has received permission from the Ministry of Energy of the Republic of Kazakhstan to extend the Akkulka Exploration Contract for another four years, from March 10, 2015 to March 10, 2019 (subject to certain routine amendments to the Contract).
This is the first time the Company has received a four-year extension as historical extensions have been for two-year periods.
The Ministry of Energy has provided this extension to allow the Company to fully assess the acreage. In addition, the current oil production from the "Doris" oil field is produced under this contract and this extension allows for this to continue for the four-year period.