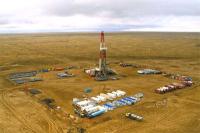 Tethys Petroleum Limited has not made the payment for the September cash call issued by the Bokhtar Operating Company in connection with Tethys' interest in the Bokhtar PSC inTajikistan. As a result, Tethys remains in default of its obligations under the Joint Operating Agreement and Shareholders Agreement dated June 18, 2013 relating to the Tajik Asset.
On September 23, 2015 the Company announced that it had not paid the September Cash Call. The Company also noted that a payment would need to be made by October 9, 2015 in order to remedy this non-payment and avoid the Tethys' contractor party being subject to various, potentially very onerous remedies that other contracting parties may seek to enforce under the JOA, which may result in a significant impairment of the value of Tethys' interest in the Tajik Asset.
Furthermore, the Company announced at that time, that if binding documentation had not been entered into in connection with the interim financing proposed by Nostrum Oil & Gas PLC by the end of the exclusivity period with Nostrum, which expired at 11.59 p.m. on October 6, 2015, it was very likely that the Company would not be able to make the payment within the prescribed timeframe that would prevent the aforementioned scenario arising.