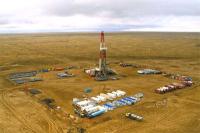 In May, Tethys Petroleum (TPL) announced that the proposed 50% farmdown of its Kazakhstan assets to SinoHan for $75m would no longer proceed. The company launched a strategic review of the business, and announced $18.7m in new loans year to date.
Operational performance is sound: the shallow gas fields should see 2015 sales volumes double y-o-y and benefit from increased pricing, and a recent MOU with PetroChina underlines regional interest. However, the company will need further capital until realisations/volumes pick up enough to produce free cash flow (possible in 2016), and possibly to fund material prospects such as Klymene (which could hold 422mmboe, more than 15x TPL's current 2P reserve base).
TPL is negotiating on an exclusive basis with AGR for funding. We have adjusted our valuation, resulting in reduced core NAV of 27p/share, although we are cautious of near-term funding needs.