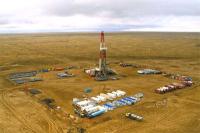 Tethys Petroleum Limited updates the previously announced US$15 million convertible debt facility with Olisol Petroleum Limited , a wholly owned subsidiary of Olisol Investments Limited.
Tethys received a further US$1 million on January 28th, 2016. Olisol has now indicated that it believes that it can transfer an additional US$1 million by February 12th, 2016. Olisol has stated on many occasions that funds would be forthcoming imminently, only for each of their own targets to pass without any transfer being made.
There can be no guarantee that the further payment will be made by February 12th, 2016 or that further funding will be received.