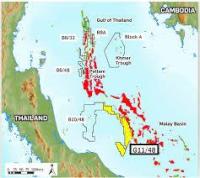 KrisEnergy Ltd. has concluded drilling operations at the Rojana-1 exploration commitment well in block G11/48 in the Gulf of Thailand.
Rojana-1, which commenced drilling on 23 June 2014, reached a total depth at 4,916 feet (1,498.4 metres) measured depth, or -4,126 feet total vertical depth subsea. No significant hydrocarbon shows were detected in the target reservoirs.
Water depth at the well location is 230 feet. The well is the final commitment well for the G11/48 licence, where the joint-venture partners are developing the Nong Yao oil field. Nong Yao is expected to commence oil production in the first half of 2015.