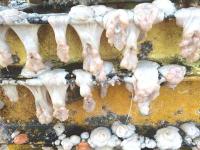 Decommissioning within the offshore environment is rapidly becoming a focused activity for the oil and gas industry. Latest figures from Decom North Sea suggest that there are, approximately, 470 offshore installations in the UK sector due to come out of service by 2030 with an associated cost of US$46.8 billion (£30 billion). With such a formidable undertaking ahead, oil and gas operators are developing their decommissioning plans.
The effective management and mitigation of potential environmental impacts and risks is key to the success of this process. Integral to this are marine growth assessments which are increasingly being used to provide valuable information for decommissioning plans. Faron McLellan, Environmental Consultant, Dr Dorota Bastrikin, Senior Consultant, and Dr Joe Ferris,
Associate Director at BMT Cordah, a subsidiary of BMT Group, discuss the importance of these assessments drawing on a number of projects carried out both within the North Sea and overseas, and how they can assist the planning process, minimise the environmental impact and financial risks. An important environmental issue is the occurrence and spread of marine species on decommissioned structures outside their naturally occurring range with the risk of introducing an invasive species.