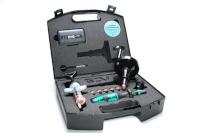 The exact and demanding standards involved with medium and high pressure containing ports means the piping systems and components they are machined into are high risk pieces of equipment where even the slightest damage, or lack of surface finish, to a port will invalidate their use. Any damage often involves employing specialist external engineers, services and equipment to re-machine and test the port feature. A very expensive and time consuming process for remote onshore or offshore oil & gas facilities – until now.
The recent success that EDV achieved with the launch of their specialised 'one hit' custom-designed Port Tooling for the Oil and Gas industry has lead them on to develop a unique and easy-to-use, manual or battery powered Port Repair and Inspection Kit (Patent Pending).
Should a port suffer damage during installation, maintenance or at any stage of the component's life, the repair kit can bring the seat detail back to its original standard, ensuring a quality seal face. Port details can also be repaired and inspected during the manufacture process with the work piece in place on the machine, using the same easy-to-use EDV Kit.