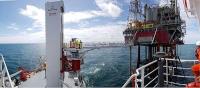 Barge Master and Bosch Rexroth's "Next Generation Gangway" is in operation on the subsea-support walk-to-work vessel VOS Start from Vroon Offshore Services. The ship is chartered by MHI Vestas Offshore for the installation of wind turbines at the Walney Extension Wind Farm at the Irish Sea.
To make VOS Start one of the most innovative ships in the market a unique solution was provided by Barge Master and Bosch Rexroth, its partner for the gangway. The gangway is designed and built to the highest standards and certified under the new DNV-GL rules for motion-compensated gangways.
The motion-compensated gangway is mounted on a height-adjustable pedestal with an integrated elevator enabling a continuous workflow. Additionally, the pedestal makes it possible for the gangway to land on any height, keeping the gangway horizontal and providing stepless transfers.
Both people and cargo can be transported from the ship deck or the level below to the level of the gangway, where they can instantly cross.
The gangway has been extensively tested onshore at a specially designed test facility at Bosch Rexroth in Boxtel. The onshore testing made sure that only a very short period was needed to get the gangway operational on the VOS Start. Only a few days of offshore testing where needed.
This next generation gangway, which is operated by a single operator, is equipped with extremely fast sensors and control technology. Movements of the ship can be translated into "counter movements" of the gangway within milliseconds. Because of this the system is able to compensate for wave heights up to 3 metres (Hs) allowing safe transfers.
Making the system truly unique is the fact that forces are also measured in the tip of the gangway, which allows for the forces to be kept low. This reduces the possibility of the tip to slip, significantly increasing the workability.