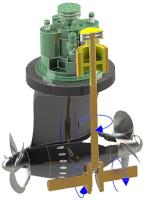 Steerprop, a specialist in azimuth propulsion, has unveiled its new CRP ECO LM propulsor featuring permanent magnet (PM) technology from The Switch. The lightweight, compact unit offers shipowners an unrivalled combination of efficiency, power, easy installation and maintenance, and reduced lifetime costs.
Steerprop has been developing innovative propulsion units since 2001, while The Switch, an advanced drive train solutions specialist, is using its proven technology to enhance performance in marine applications. The PM machine, currently in serial production, has a solid track record of operating in the world's largest wind turbines in rough offshore conditions.
The new Steerprop CRP ECO LM propulsor utilises a vertical PM motor, allowing it to sit inside a vessel hull, which simplifies installation and maintenance. When the motor is placed on top of the thruster, the unit size can be more compact, increasing efficiency without compromising on hydrodynamics and lowering operational costs.
"Steerprop's contra-rotating propeller (CRP) units are well known for their excellent hydrodynamic efficiency, in some cases delivering up to 25% less fuel consumption than single propeller, traditional electric alternatives," comments Mika Koli, Business Development Manager, The Switch. "By combining their unit with our PM motor, which gives optimal efficiency throughout the entire speed range, we can take vessel energy, emissions and cost savings to the next level."
"In addition, the fact that the PM motor and all auxiliary electric systems and instrumentation are situated inside the vessel hull ensures ease of maintenance and reliability. This, and its compact, light nature, also means installation is straightforward – even at a late stage," he says.
"We believe the unit sets a new benchmark for efficiency, simplicity, and reliable, predictable marine performance," Koli continues.
Steerprop's CRP ECO LM propulsor is especially suited to harsh environment operation and the demands of ice breaking, having received the highest ice classification. It is robust and, thanks to its lightly loaded CRPs, offers lower noise and vibrations, enhancing levels of comfort onboard.
"This is now our third generation of CRP propulsors," states Hannu Jukola, Senior Sales Manager, Steerprop, "and an important step forward, both for our business and marine propulsion performance in general."
"By integrating The Switch's PM motor into our solution, we create a compact unit with enhanced efficiency throughout the speed range. This delivers tangible benefits for all maritime stakeholders," he says.
"Now vessel designers and builders have a solution that is simple to install, while owners and operators can ensure optimal performance and reduced costs through greater efficiency and simple maintenance. In addition, they can be better global citizens by cutting back on emissions. This is a best in class solution that fully capitalises on the potential of two energy-efficient innovations, in one simple, effective and powerful propulsion unit," Jukola concludes.
The Switch entered the marine segment in 2013, acquiring Wärtsilä Drives in Norway in November last year. The ambitious business, part of the EUR 3.3 billion turnover Yaskawa Electric Corporation, is now targeting growth of 200% in the sector across the course of the next 5 years.