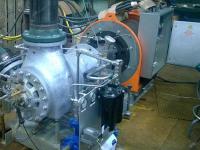 The Switch successfully commissioned its variable frequency drive (VFD) and high-speed motor solution for Coffin Turbo Pump in New Jersey, USA, enabling exceptional performance in a much smaller package.
The Switch is pleased to announce the introduction of a new high-speed motor that drives a Coffin Turbo Pump boiler feed pump. The prototype tested pump-motor was run at various flows up to 650 gpm (148 m3/hr) and pressures up to 900 psi (62 bar) using a 350 kW motor running at up to 8500 rpm.
Available in packages rated up 1550 gpm (352 m3/hr) and pressures up to 2100 psi (144 bar), this motor-pump combination provides exceptional performance in a package much smaller and lighter than the traditional multiple stage or gearbox driven pumps. Additionally, the package features a combined lube system between the pump and motor.