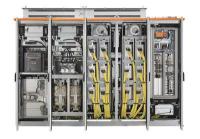 The Switch has launched its new generation, full-power converter (FPC) for utility-grade electricity production. The FPC+ concept builds on the company's experience from its installed base of over 11 GW throughout the world.
Designed for the highest level performance in electricity production, the new robust FPC+ line of converters from The Switch ensures future-proof electricity quality to meet the strict international requirements for harmonics, flicker and fault ride-through (FRT). The affordable, state-of-the-art converter is optimized to work with permanent magnet as well as induction machines.
Optimal power flow control guarantees minimum losses and smooth load transitions. By reducing sensitivity to the network, The Switch FPC+ produces a seamless interaction with the grid, even in the case of severe disturbances. New micro-grid functionalities are also available to enhance the proven FRT.