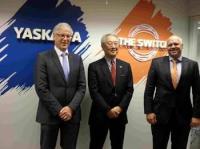 The Switch has officially opened its new global headquarters in Helsinki. The new location will maintain the company's ability to effectively and efficiently meet the needs of its international stakeholders.
"The main motivation behind the move is to be located in the center of Helsinki, a location which makes meetings with partners, clients and suppliers much more convenient. This new office is an investment in our future and accompanies the strategic plan we have for the continued expansion of The Switch," commented Jukka-Pekka Mäkinen, President and CEO of The Switch.
This change of premises is yet another positive milestone in the company's history, happening a year after its acquisition by Yaskawa Electric Corporation, a world leader in motion control and robotics from Japan.