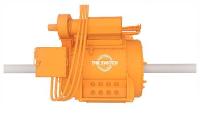 The Switch, a specialist in the development and supply of advanced drive trains, has received an order from WE Tech, an energy efficiency solution provider, to deliver its permanent magnet (PM) shaft generators to two 18,600 dwt chemical tankers currently under construction for Sweden's Ektank AB.
"Our modular, flexible and lightweight PM shaft generators help shipowners meet their ambitious objectives while also delivering real savings and efficiency gains," comments The Switch Business Development Manager Mika Koli.
The combination of lower costs, improved environmental performance and greater efficiency is the Holy Grail for the industry, and The Switch technology is tailor-made to deliver on that.
The PM-based shaft generator is a powerful proposition for today's cost and environmentally conscious shipowners. This deal is a perfect example of how PM technology is set to revolutionise the maritime industry.
"We see huge potential in marine, and the decision of respected shipowners such as Ektank to invest in in PM machines demonstrates that our belief is well founded. We'll be looking to build on this momentum going forwards and raise awareness of the transformative effect of The Switch technology throughout the industry. We believe this is just the start of something akin to an on-board energy revolution," Koli continues.
"We only entered the marine segment in 2013, but we have already received over 30 orders for our technology, most of them thanks to WE Tech," Koli concludes.
WE Tech has also recently placed orders for The Switch PM shaft generators for two Toll Shipping 12,000 dwt RoRo vessels and a series of four Stena RoRo ROPAX ferries.
The Switch is now targeting growth of 200% within the marine segment in the next 5 years.