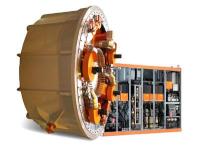 The Switch has received repeat orders worth several millions of euros from major customers in the company's core business area of wind. These repeat orders signal a strong belief in the company and provide a solid order backlog as The Switch continues to advance drive train technology under new ownership of Japan-based Yaskawa Electric Corporation (Yaskawa).
The Switch received repeat orders from major customers in China and Europe for both 1.5 MW full-power converters and permanent magnet (PM) generators. A rapid delivery time for the full-power converters helped The Switch close the deal with one Chinese customer.
These orders from long-term customers in wind provide momentum for The Switch and Yaskawa System Engineering, one of the three main divisions of Yaskawa, to begin building their common future together.