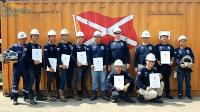 The Underwater Centre, the subsea worker training experts with 40 years' experience, has announced its new International Training Establishment (ITE) Partnership scheme, as well as its first partner, Singapore's SSE Training Centre.
The scheme will allow training centres around the world to deliver internationally recognised commercial diving courses, accredited by ADAS. This is the first time divers have been able to train to a top-calibre international standard outside the standards body's home country.
"There are huge opportunities in commercial diving around the world, but also risks – which is a dangerous combination," says Steve Ham, Commercial Director, The Underwater Centre. "In many countries, too many divers are dying because of insufficient training. Partly this is down to cost, but largely the barrier is having to travel to get the best standard of instruction, which is often unfeasible. We're removing that barrier with the ITE scheme, just as the market needs it most."
"The oil and gas industry is just picking up from the bottom of its cycle and more projects are coming online; the offshore wind industry is taking off and decommissioning ageing oil and gas assets will need a lot of divers too. There busier times ahead for the sector in the near future, and the ITE scheme will help divers around the world be part of that while maintaining the highest standards of safety," adds Ham.
The ITE Partnership scheme works by allowing existing diver training establishments to partner with the Underwater Centre, Tasmania, which has a unique agreement in place with ADAS allowing it to deliver accredited training outside of Australia. All potential partners are fully audited by The Underwater Centre to ensure high standards, and all ADAS courses are then delivered in conjunction with the company's training experts to guarantee consistent quality.
By training this way, divers benefit from greatly increased safety, as well as an internationally recognised qualification that boosts their earning potential and opens career paths around the world. Companies employing the divers can also be assured of greater worker safety and efficiency and they can bid for a broader array of projects internationally.
"It's a win for everyone," says Ham. "Divers and employers. We also hope that, by making this level of training accessible globally, there will be less incentive to hire unqualified divers. This way, we can help squeeze out bad practice and gradually raise the safety bar across the whole industry."
Until now, SSE Training Centre could only offer their government-backed diving certification, which meant their divers were restricted to working in the waters within the certification boundaries. In future, they will be able to work around the world, on a range of jobs and for different companies. The training has so far been offered in English but The Underwater Centre is also able to offer training in other languages, such as Malay.
"It has been a great pleasure and privilege to be working in partnerships with The Underwater Centre, Tasmania. Together we have been able to deliver high quality dive training systems coupled with internationally recognised ADAS qualifications in Singapore. SSE Training Centre Pte Ltd and The Underwater Centre have been working passionately for past 6 months to reach this important milestone for both parties and it's really a proud moment. Looking forward for continued friendship and success," says Captain Ram K. Kumar, General Manager, SSE Training Centre.
Allan Brown, Operations Director at The Underwater Centre, Tasmania says, "Working with the team at SSE Training Centre has been a fantastic experience. Their commitment to excellence and their passion for quality has combined naturally with the experience and professionalism of the TUCT team. The Underwater Centre and SSE Training Centre have formed a very strong partnership in the delivery of ADAS qualifications in Singapore."