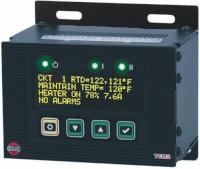 Thermon Group Holdings, Inc. has announced the introduction of the TraceNet TCM2 Dual Circuit Control & Monitoring Unit, the latest addition to the TraceNet™ family of remotely-operated heating control and monitoring systems.
Like the 18-circuit TraceNet TCM18 Control & Monitoring Unit, the TCM2 unit makes it possible to remotely maintain heat trace circuits that play a critical role in industrial processing facilities.
"We developed the new TraceNet TCM2 in response to customers who are looking for a cost-effective solution that would address single and dual heat trace circuit requirements," says Tony Williams, Global Product Manager, Control and Monitoring Systems for Thermon. "For example, small instrumentation systems in remote locations require high reliability with accurate communications capabilities. They are located far from the larger primary heat trace systems, yet still require them to maintain the proper operating temperature. What sets the TCM2 apart is that it is compact, modular, and, in contrast with the larger controllers that can control hundreds of heat trace circuits, it is specifically designed to handle one-, two- or three-phase electrical heating circuits. Because it's compact, it can be placed in confined spaces. Plus, its modular design means that it is easy to transport and assemble. It is the ideal solution," he adds.
To help operators better monitor and control temperatures of pipes, tanks, and heated instruments, Thermon designed the TCM2 to reliably operate in harsh environmental conditions. Whether in sub-zero freezing regions, offshore or scorching desert sands, the TCM2 operates around-the-clock to ensure that pipe temperatures are monitored and efficiently controlled. This allows the TCM2 to be extremely versatile. As a result, heat trace is controlled accurately and monitored continuously, enhancing heat trace efficiency and reliability.
The TraceNet TCM2 can be operated locally, by remote control or networked via wireless or hard-wire to a computer or distributed control system (DCS) in the facility's control room. The system continuously monitors every set point, including temperature, current, and ground-leakage current. It then reports locally and transmits key data remotely to the control room. For example, should the temperature or electrical current be too low or high, or should high ground leakage current be detected, the TCM2 unit senses it, and reports it. The operator can review each circuit for temperature, ground current, heater current, the frequency at which it is performing, and alarm status.
As with every TraceNet controller, the TCM2 relies on a resistance temperature detector (RTD) temperature sensors to monitor temperature on the designated pipe or equipment. The system then cycles the heat required to maintain the target temperature. If required, the operator can also adjust every circuit set point on the unit or via remote locations.
"The advanced technology found in the TCM2 unit is significant for us, and for the industry," says Williams. "For the first time, those in need of advanced heat trace control and monitoring capabilities for fewer circuits now have a cost-effective solution with either solid state or mechanical relays to control heat trace. There is simply not another controller like it. Looking ahead, we will continue to develop innovative solutions that reduce installed costs, operating costs, and overall costs of ownership while improving heat trace efficiency and reliability," he adds.