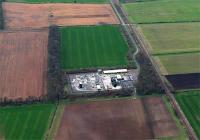 Third Energy will submit a planning application to North Yorkshire County Council to hydraulically stimulate and test various geological formations, at the existing Well KM8 at Kirby Misperton. If successful, these tests will be followed by the production of gas from one or more of these formations into the existing production facilities for the generation of electricity. The prospective nature of the formations was identified during the KM8 drilling operation in 2013 and subsequent analysis of well data.
The work involved in the proposed development will consist of five principal phases: pre-Stimulation Workover; Hydraulic Fracture Stimulation and Well Test; Production Test; Production; and the eventual site restoration.
The company is also applying to the Environment Agency for the necessary permits for the proposed project. These include a bespoke mining waste operation permit, including a non-hazardous mining waste facility, a bespoke radioactive substances permit and a bespoke groundwater activity permit.