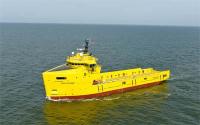 Damen Shipyards Galati has handed over the third Platform Supply Vessel in a series of six to World Wide Supply of Norway.
This six-ship order heralds a new era in offshore construction for Damen Shipyards Group.
World Pearl is built to Damen's entirely new PSV 3300 design. The first of the Class PSV 3300, World Diamond, was delivered in July to the Norwegian company.
"Delivery of the first PSV 3300 represents a new era in Damen's continuing offshore supply vessel story," said Arnout Damen commenting at the time of the first delivery.
"This has been a truly collaborative project, with Damen drawing on expertise from the client and within the group, as well as from partners among leading research institutes and subcontractors to deliver a 'first in class vessel' designed, built and equipped to European standards for a world class customer."
Meeting future demand
Delivery of the new design involved extensive CAD/CAM modelling by Damen Shipyards Gorinchem in the Netherlands and model testing at Maritime Research Institute Netherlands (MARIN). The 3300 is part of an entire new range of Damen PSVs.