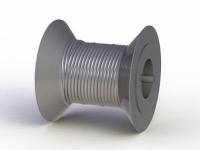 Cooperation between three companies developing innovative solutions for deepwater installation has led to the introduction of a new system capable of handling heavy loads at depths of well over three kilometers.
The companies involved are Deep Tek, which provides a wide range of services to the oil and gas, salvage, scientific research and deep water mining sectors; Lankhorst Ropes, a world leading rope technology innovator and manufacturer of high performance synthetic ropes; and DSM Dyneema, the producer of Dyneema® ultra-high molecular weight polyethylene fiber.
Working closely together, the three companies have developed a fully integrated system based on Deep Tek's drum winch technology for deploying and recovering payloads in even the deepest waters. Deep Tek has developed and patented a spooling pattern that allows multiple layers of synthetic fiber rope to be spooled onto a load bearing winch drum with no risk of cutting in. Lankhorst has created a new rope design with fully optimised fatigue and load bearing characteristics for use in the deepwater lowering system. This rope is based on DSM Dyneema's DM20 XBO fiber and a proprietary coating technology.