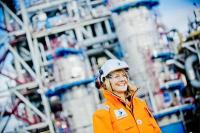 The Kårstø facility, which ranks among the world's largest processing plants for natural gas, celebrates its 30th anniversary. Constant expansion has increased its capacity fivefold since 1985.
Roughly 25 per cent of Norwegian natural gas exports to Europe are routed via Kårstø, which also receives some 700 ship calls every year.
"This facility occupies a key place in the gas value chain, and has made Norway the world's second-largest exporter of this commodity," says Gassco CEO Frode Leversund.
"As operator of Kårstø, we're very proud of the progress which has been made over these years. Few if any industrial facilities in Norway have created greater value for society."
The Statpipe rich gas pipeline was brought ashore at Kalstø on the island of Karmøy and extended overland to Kårstø, which became the site of a fantastic industrial development. This plant has come to provide 1 200 permanent jobs, and to export gas worth almost NOK 70 billion per annum. It has been expanded many times, in part through incorporating gas from several giant developments such as the Sleipner and Åsgard fields.