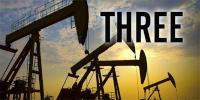 Three Forks, Inc., an independent oil and gas exploration and production company with operations and assets in Texas, Oklahoma and Louisiana, today announced a summary of its 2013 year-end reserves.
The reserve study, which was conducted by Ralph E. Davis Associates, Inc., an independent, third party reserves-valuation company based in Houston, TX, showed total proved reserves of 522,900 BOE having a PV-10 value of approximately $16.0 million.
Proved developed producing reserves totaled 253,500 BOE, representing 48% of overall proved reserves. Proved developed non-producing reserves totaled 197,700 BOE and proved undeveloped reserves totaled 71,700 BOE.