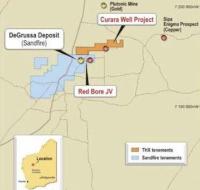 Thundelarra is pleased to announce the ramp-up of exploration with the start of Air Core drilling at the 90%-owned Curara Well prospect (E52/2402) in Western Australia's Doolgunna region.
The initial programme involves a number of air core drill traverses, oriented approximately north-south, designed to cross the interpreted position of the Jenkin Fault Zone at a number of locations along the Curara Well tenement. Holes will be drilled to blade refusal.
The air core programme has four main objectives: •To locate the JFZ more accurately under surface cover; •To locate and test the possible off-sets / transfer faults along the JFZ; •To identify geochemical anomalies in the proximity of the JFZ; and •To determine the depth of the weathering profile in the proximity of the JFZ.