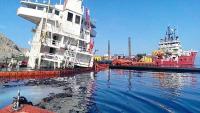 With the largest privately owned stockpile of oil spill response equipment, including Hazardous Noxious Substance (HNS) response and waste management capabilities, operated by trained and experienced personnel strategically located in over 20 locations worldwide, Polyeco Group now offers the first truly integrated Global Tier 3 emergency spill response service.
Built around a foundation of six regional facilities all with significant stockpiles located in North America, South America, Northern Europe and Southern Europe (including the Mediterranean), Middle East and the Far East, plus local and global alliance partnerships, Polyeco Group has the capability to respond to a client's response and waste service needs anywhere in the world.
This approach to the provision of Tier 3 services based on regional capabilities and local partnerships enables Polyeco Group to mobilise with greater flexibility providing rapid, full services on-site in a cost effective manner. Services are supported by a global network of industry recognised experts, practiced and qualified to provide gold standard expertise for incident response and management in any climate and environment.
David Cook, Technical Director of Emergency Response, commented, "We have established regional response centres focused on customer needs. Containerised and customised equipment packages, along with an expert workforce are on stand-by to be mobilised at any time should an incident occur."
All essential incident support functions are available from Polyeco Group, including personnel to assist in your incident command organisation, responders at site, equipment stockpiles, dedicated response vessels, resource management, soil/water remediation and waste export or processing faculties. Services are always tailored to customer needs.
Polyeco Group CEO, David Nazha, says, "By compiling the vast experience of our personnel and assessing previous spill incidents, Polyeco Group has been able to identify and address common issues in spill response operations and fill those gaps. The conclusion of this assessment resulted in the creation of the first and only fully integrated, Tier 3 service provider."