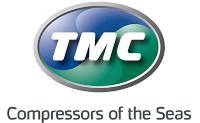 International compressor supplier TMC Compressors (TMC) has been awarded a contract by Daewoo Shipbuilding & Marine Engineering (DMSE) to supply a marine compressed air system to a new-build floating storage and regasification unit (FRSU).
TMC's scope of work includes engineering, manufacturing and supply of a complete compressed air system for the FRSU, which is being built by DSME for BW LNG.
Under the contract, TMC will supply 3 x 40 kW frequency controlled control air compressors and 3 x 40 kW service air compressors. Contract value is undisclosed.
"Any FRSU is a vital component in the LNG value chain. That is why DMSE and BW LNG have opted for compressors that are built especially for marine application, as continuous uptime is crucial for both the on board compressor system and the vessel as a whole," says Per Kjellin, managing director of TMC.
DSME is currently constructing the 134,400 cbm LNG FRSU at its Okpo shipyard in South Korea. The FRSU is expected to be delivered in November 2019.