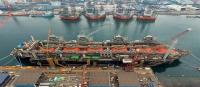 International compressor supplier Tamrotor Marine Compressors (TMC) has been awarded a contract by Golar LNG to supply an energy-efficient compressed air system to the Hilli FLNG vessel which will operate offshore Cameroon.
FLNG Hilli is currently undergoing a conversion from an ex-LNG carrier to a floating LNG (FLNG) production unit at the Keppel Shipyard in Singapore.
TMC's scope of work includes manufacturing and delivery of 7 x 365 kW Smart Air compressors to be installed on board the FLNG Hilli. The contract value is undisclosed. TMC's Smart Air compressors offer 50% energy saving compared to conventional compressors.
"Golar LNG's life-of-field approach to the on-board compressed air system will enable them to significantly reduce both energy costs and harmful emissions. This type of thinking contributes towards making offshore field developments even more economically viable, so we are proud to be part of this project," says Per Kjellin, managing director of TMC.
FLNG Hilli is scheduled to commence operations at the Kribi field offshore Cameroon later this year. Golar LNG will provide liquefaction, storage, and off-loading services under a tolling agreement to Cameroon's state owned oil and gas company Société Nationale des Hydrocarbures and Perenco Cameroon as upstream joint venture partners.
It is anticipated that the allocated reserves will be produced at a rate of 1.2 million tonnes of LNG per annum, over an approximate eight-year period.
"FLNG Hilli is a big installation that requires major compressor power. Although the vessel will be located in benign, near-shore waters, it is still an offshore environment that places strict demands on operational uptime – especially given the project's ambitious production targets. Only compressors that are specially designed and built for marine applications can deliver the required reliability," says Kjellin.