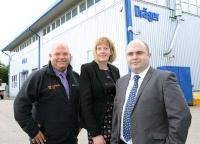 TOPSIDES UK 2016, Europe's first and only conference and exhibition focused on the operation of topsides facilities, has extended the submission date for conference abstracts due to multiple requests. This moves the original deadline of 21st September to 2nd October, providing companies with a further ten days to submit.
Companies are invited to secure a number of presentations in the conference, which is set to take place on 16th and 17th March 2016 at the Aberdeen Exhibition and Conference Centre (AECC), by submitting short abstracts outlining proposed topics and content.
The conference, which is dovetailing the Topsides UK exhibition, will feature panel-led discussion sessions on safety and competence, people and skills, production enhancement, cost efficiencies, and innovation and technology.