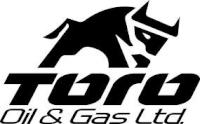 Toro Oil & Gas Ltd. has entered into a definitive purchase and sale agreement (the "Acquisition") to acquire high quality, low decline, light crude oil producing assets located in east central Alberta (the "Assets") from an arm's length oil and gas producer.
The current production of the Assets is approximately 400 boe/d, all from the Viking formation with potential for considerable light oil growth.
Total consideration paid for the Assets is approximately C$25 million, of which C$22.5 million will be paid in cash and the issuance of 29,797,378 pre-consolidated common shares of Toro ("Common Shares"), subject to normal adjustments based on an October 1, 2014 effective date. The closing of the Acquisition is subject to customary conditions, including approval of the TSX Venture Exchange ("TSXV"), and is expected to close on or about December 19, 2014 (the "Closing").