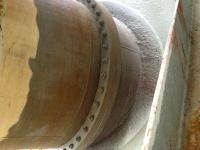 In June 2014, the Plant Maintenance Manager of a chemical plant in South Louisiana, USA contacted Belzona requiring an alternative flange corrosion protection solution.
The plant had a 52" flange on a vessel connecting to outlet piping that needed corrosion protection. The flange was affected by crevice corrosion, a well-known damage mechanism in petrochemical facilities caused by the concentration of corrosive substances within a confined space. The crevice between two adjoining flanges is the ideal environment for initiation of crevice corrosion and the corrosion rate is accelerated by the concentration of these corrosive substances in a confined area. Corrosion of the sealing area can lead to loss of containment and the potential to cause product release with catastrophic consequences.
[52" flange on vessel in need of corrosion protection]
To avoid corrosion between the flange faces, a previous protection solution consisting of a fiberglass system was used on other vessels in the unit. Fiberglass offers good corrosion resistance but these materials can however be time-consuming and expensive to apply. If access to bolts is required for flange maintenance, fiberglass can be cut away, but it is difficult to remove and normally must be replaced with a new system to reinstate the protection.
In order to avoid these drawbacks, the client was looking for an alternative and more cost-effective protective solution that allows for a simple installation, is suitable for all flange sizes and shapes, and permits easy access for inspection purposes. Belzona 3411 (Encapsulating Membrane) was recommended as the system provides a complete corrosion protection for flanges, fastenings and associated pipes, and can be easily applied and peeled back for maintenance purposes. The system offers full corrosion protection due to its use with a dual use corrosion inhibitor/release agent, Belzona 8411, and the high adhesive properties of Belzona 3411 excludes any moisture.
The application was carried out by the plant personnel in accordance with Belzona's application procedures. All surfaces to which the Belzona 3411 system was to bond to were cleaned with Belzona 9111 (Cleaner/Degreaser) to remove all dirt, grease and surface contaminants. The bond areas also required surface preparation to ensure good adhesion. The minimum level of surface preparation for exposed/corroded steel is wired brushing to ISO 8501-1 St 2/SSPC SP-2. As the surfaces had been previously painted, the bond area were thoroughly abraded with abrasive paper to remove all gloss and provide a good key for the coating system.