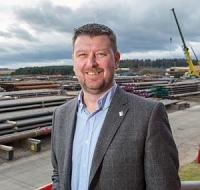 Independent Total Tubular Management company, RAMCO, has welcomed a new Business Development Director to drive focus and growth within new and existing regions.
Rob O'Neill has joined the organisation from his previous role with TWMA where he was the Global Business Development Director. Based at RAMCO's purpose built Aberdeen facility, Rob will expand on the company's already international footprint.
The 44-year-old from Aberdeen has significant experience in Oil Country Tubular Goods (OCTG) and specialises in growing businesses internationally within the upstream oil and gas market, which will further strengthen RAMCO's skilled team of innovative specialists.
He will drive focus and company growth, both domestically and internationally, building on his extensive existing networks as well as developing new relationships as RAMCO develops its service offering.
O'Neill says, "I started my career in OCTG back in 1995 and have developed my knowledge and experience throughout the last 22 years. I'm delighted to be joining RAMCO at this time, as it continues to buck the trend in the industry through growth and expansion, and I'm really looking forward to working with the team at this award-winning and strongly independent organisation, which has an unparalleled reputation in the OCTG market for total tubular management."
With more than 40 years of innovation and 7 million joints processed world-wide, RAMCO has a considerable portfolio of established operations across its five operating territories. This means the organisation has the ability to deliver world-class cleaning, inspection and rig-ready preparation anywhere in the world.
Derek Smith, Managing Director of RAMCO Group says, "We are making good progress with our business strategy, and we have a determined and strategic focus to expand into new international regions. It is with that, that we want to build and maintain momentum, and Rob is the perfect candidate to push us to where we want to be. We look forward to working with Rob and driving our ambitious and reliable Total Tubular Management service globally going forward."