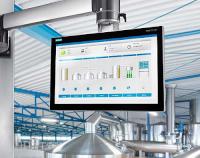 Siemens has added Simatic HMI Comfort Panels PRO (PROtected) to its totally IP65 protected devices for operator control and monitoring. The new panels with 12-, 15-, 19- and 22-inch screen diagonals provide the same functions as the built-in units, and are designed for cabinet-free visualisation and automation. With high performance and functionality as well as many integrated interfaces and certifications, these rugged devices are especially suitable for high-end machine-related applications. The new panels complement the range of IP65-PRO devices with the already available Industrial Flat Panel PRO (19 and 22 inch) and Panel PC PRO (15, 19 and 22 inch).
The new Simatic HMI Comfort Panels PRO with total IP65 degree of protection have brilliant, continuously dimmable widescreen displays with 16 million colors and up to 170 degree angle of vision. The nonreflecting glass front has a modern design with a scratchproof, chemical resistant surface that allows operation with gloves. The Comfort Panels PRO are equipped with an integrated system card for automatic backups, and are also suitable for energy management directly on the machine, for example with Profienergy. Harmonised interaction with the Advanced Controllers Simatic S7-1500 and the use of conventional standard connectors for the cabling enable operator control and monitoring solutions to be realised especially economically. The mechanical design features adapters for flexible cabinet-free mounting on conventional stand or support arm systems. The individual mounting and placing options offer the operator a very high level of convenience and always an optimal view of the panel and visualisation.
The Simatic HMI PRO series offers additional add-on system components for customised function and operation enhancements. The standard system – consisting of basic unit, expansion components, mounting adapter, and optional keyboard and keyboard shelf – allow customised, flexibly adaptable operator control and monitoring solutions. The devices are distinguished by easy mounting, quick commissioning and efficient engineering, and offer many years of cost-effective, safe and reliable operation. Siemens won the iF Design Award 2017 for the innovative system concept of the Simatic HMI PRO series.