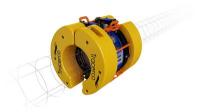 Tracerco, part of the FTSE100, Johnson Matthey Plc, has announced that development has commenced on a new deep-water application for its trail blazing pipeline inspection tool, DiscoveryTM allowing it to reach depths of over10,000feet.
The new development will allow DiscoveryTM to inspect pipelines in ultra-deep waters off the coast of the USA and will be fitted with a new crawler system feature which will allow the tool to propel itself along the pipeline taking additional measurements. Also planned are further refinements of the already extremely clear tomographic images.
The development is scheduled for completion early summer 2014, ready for first deployment in the Gulf of Mexico with a full inspection schedule expected over the summer. Tracerco has received investment from a major Gulf of Mexico based oil company in order to start the development work on the already impressive technology.