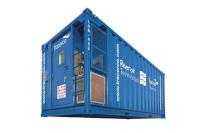 Tracerco, part of FTSE 100 Johnson Matthey Plc, has invested in a number of new mobile reservoir tracer analysis laboratories for use onsite in offshore projects. The laboratories will give customers rapid sample analysis turnaround, producing results almost immediately as opposed to the weeks that it often takes when samples have to be sent offsite for analysis. This allows oil companies to optimise production by reacting quickly to the Tracer Production Log™ (TPL) in Inflow, Frac and Interwell. The development and production designs can be altered to maximise production. It can also help reduce the cost implications of keeping contingency tools on hire such as PLT or coiled tubing equipment.
The mobile tracer laboratories for offshore projects are built to DNV 2.7 Zone 2 standard and are fully pressurised and able to integrate with safety systems on the rigs.
The laboratories contain identical analytical equipment as is used in our shore based facilities allowing multiple tracer analysis with no compromise on tracer selectivity and sensitivity. Onsite analysis offshore will provide more immediate insight on real time fluid flow, allowing the customer to make better informed decisions on strategies such as well changes or well interventions so helping boost productivity.