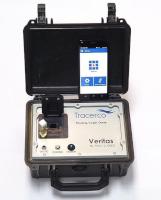 Industrial technology specialist Tracerco, part of FTSE100 company Johnson Matthey Plc, has launched Veritas™ and TagTrax™; adding to their secure in-product marking portfolio.
With an extensive range of covert security marker solutions for fuels and high value products, Tracerco can help organisations challenge criminal activity such as smuggling, adulteration and counterfeiting, by delivering full management solutions. This ensures brand protection and product authentication.
Veritas™ is Tracerco's marking system specifically designed to detect dilution in high value and taxed fuel products. With the benefit of years of practical experience, the new Veritas™ system has been designed to read a marker in fuel directly without any preparation to deliver high quantification accuracy and ultra-low limits of detection.
Veritas™ is a highly portable instrument which is weather, drop and shock proof. These features together with an excellent battery life ensure the system withstands the rigour of challenging conditions, making it ideal for use in the field, as well and in the laboratory.
Veritas™ has been designed to work with TagTrax™, Tracerco's cloud based data and field testing results portal for fuel marking programme management. Developed as a common platform to remotely transfer data from all of Tracerco's fuel testing instruments TagTrax™ displays information in a web based interface that allows efficient programme management and targeted testing.
The highly secure TagTrax™ system receives and manages wirelessly transmitted data from Veritas™ and displays the results on any internet enabled device. Results are organised by location allowing the performance of individual retail sites to be monitored. This summarised information can be easily examined in more detail with a few clicks in the intuitive interface. TagTrax™ can be configured to send a percentage marking level or a simple pass or fail result to authorised users by email or SMS. TagTrax™ ensures the effective use of resources, to maximise illegal fuel detection. These features make TagTrax™ the fuel marking industry's first, comprehensive, fuel testing management system.
Tracerco's brand protection and authentication technologies are estimated to have helped customers to recover billions of dollars in lost revenues and taxes. With completely bespoke solutions to challenge adulteration and fuel dilution, Tracerco offers flexible, fully managed programmes that can be tuned to meet specific customer needs.