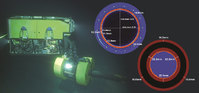 Tracerco, part of Johnson Matthey plc, has been awarded LR recognition for its acclaimed subsea CT scanner: Discovery™.
The Qualification Trials of Discovery™ were conducted in a simulated subsea environment at Tracerco's HQ in Billingham, UK and successfully determined the depth limit for reliable POD (Probability of Detection) and typical sizing tolerances for metal loss anomalies at the inner and outer positions of subsea pipes. These capabilities were determined in accordance with recognised guidelines for offshore pipelines and were further validated using Non-destructive Examination standards specifically for the technique of Computed Tomography (CT).
Ben Metcalfe, Subsea Technical Manager at Tracerco comments on the recognition: "We are extremely pleased to have this qualification programme recognised by LR who provided valuable technical input in terms of the specific NDT technique and the general qualification process. The results give our customers an assurance that the qualification was conducted in compliance with international standards and guidelines for offshore pipelines."
In addition to its Flooded Member Inspection (FMI) service, Discovery™ is Tracerco's second technology solution to receive the industry respected recognition from LR, demonstrating the innovative and high quality standard of its subsea portfolio.
With over 1,000 scans completed since its launch, Discovery™ has been at the forefront of subsea pipeline inspection, obtaining accurate measurements of pipe wall thickness through any type of protective coating whilst simultaneously diagnosing and characterising flow abnormalities within subsea pipelines without interruption to normal pipeline operations. In 2017 alone, Discovery™ enabled operators to save millions by running cost effective inspection campaigns in the Gulf of Mexico and the Arabian Gulf.