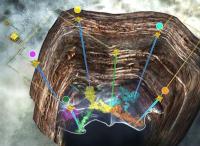 Tracerco, part of FTSE 100 company Johnson Matthey Plc, has experienced record growth of 50% in demand for their reservoir tracing solutions over the past year.
As the demand for hydrocarbons continues to grow, oilfield professionals are continuously faced with the challenge of discovering, developing, and maximising hydrocarbon reserves from more inhospitable locations and complex geological structures. Knowledge of subsurface fluid flow provides valuable information to a reservoir field development team during hydrocarbon recovery. This information can be used to ensure effective reservoir displacement to maximise hydrocarbon extraction efficiency.
Tracerco's reservoir characterisation business was established 30 years ago. The company offers an extensive range of smart tracer systems that can be applied to provide unique understanding of the actual oil, water and gas flow patterns in reservoirs.