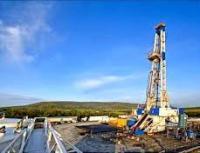 Transerv says that Warro-6 has reached total depth of 4520m RT and is presently preparing to run wireline logs prior to setting 5 ½' casing.
Warro-6 continued to encounter strong gas shows to the base of the well. The bottom of the main reservoir section was reached at 4462.5m RT at the top of a regional shale unit. The well has confirmed a gross pay section in the lower Yarragadee of 4147 - 4462.5m RT, thereby extending the interpreted gas column for the field another 113m below the lowest known gas seen in Warro-5.
In addition, the well encountered further strong gas shows with fluorescence between 4483m RT and total depth. This deeper unit provides another objective for future wells in the field.