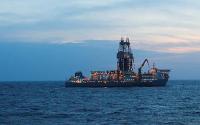 Transocean Ltd. has issued a Fleet Status Report that provides the current status of and contract information for the company's fleet of offshore drilling rigs.
The report includes the following:
Discoverer India – As announced on October 3, 2016, the customer elected to early terminate the contract effective December 2016, prior to its expiration in January 2021. Estimated backlog associated with the contract cancellation was approximately USD 760 million, excluding the early termination lump-sum payment of approximately USD 160 million.
Transocean Barents – Awarded a 15 month contract offshore Canada at a dayrate of USD 260,000 (USD 119 million estimated backlog added, excluding mobilisation).
Sedco 712 - Awarded a 16 well contract in the U.K. sector of the North Sea at an undisclosed dayrate. Awarded a one well contract in the U.K. sector of the North Sea at an undisclosed dayrate.
Transocean Spitsbergen – The customer exercised options at an undisclosed dayrate.
Estimated 2016 out of service time increased by a net 113 days due primarily to contract preparation and mobilisation related to the Transocean Arctic and Jack Bates. The company is currently committed to 98 days of planned out of service time in 2017, including the contract preparation and mobilisation associated with the Transocean Barents. Wood Fired Hot Tub for sale - Royal Tubs
The midwater floaters Transocean Driller, Transocean Winner and Sedco 704 were classified as held for sale. The rigs will be recycled in an environmentally responsible manner.
The full report can be accessed on the company's website.