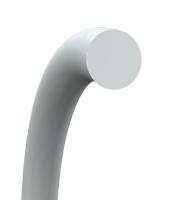 At booth 1928 at OTC 2017, Trelleborg Sealing Solutions, a pioneer of engineered polymer solutions to the offshore oil and gas industry, announces Isolast® J9567, a technically advanced multi-purpose perfluoroelastomer compound for oil & gas applications.
Isolast® J9567 provides excellent chemical resistance in a broad range of chemical media at continuous operating temperatures from -10° C to +225° C. Performance is further enhanced by excellent compression set characteristics, which ensure high elasticity, minimising the risk of seal failure. It is a truly versatile perfluoroelastomer suitable for use in a wide range of applications in the hydrocarbon refining industries, chemical processing, pumps, valves/flow regulation and power generation equipment including compressors. It can be used in rotating equipment such as pumps and centrifuges as well as flow regulation/valves.
Isolast J9567 provides:
Outstanding chemical resistance to a wide range of chemicals
Exceptional acid and amine resistance
Excellent long-term compression set characteristics
Offers significant cost savings and a low cost of ownership
Isolast® J9567 delivers tangible benefits and cost advantages by providing optimum seal reliability and extending service life. The compound is available in all standard international O-Ring sizes along with custom-engineered solutions and FlexiMold™ large diameter joint free seals. OTC 2017 attendees are encouraged to meet with Trelleborg engineering experts at booth 1928 to discuss their oil and gas challenges.