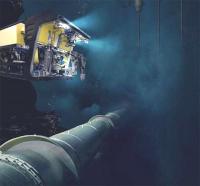 Trelleborg's offshore operation will showcase its comprehensive range of high performance solutions at the Underwater Intervention Conference in New Orleans, Louisiana from 10 to 12 February on stand 306. Delegates will get the opportunity to hear from Trelleborg expert, Bob Kelly, as he takes to the stage to give an in-depth and informative presentation on buoyancy, entitled 'Syntactic foam for underwater vehicles'.
Bob Kelly, General Manager of Trelleborg's offshore operation in Boston,will present the philosophy of selection, development and qualification of syntactic foam buoyancy for subsea vehicles.
Kelly commented: "I am excited to be speaking at this important industry event and look forward to discussing new developments in manufacturing and testing of syntactic foam buoyancy with conference attendees. Underwater Intervention attendees have historically providedus with excellent input regarding current and future buoyancy requirements. An interactive session such as this allows Trelleborg to listen to industry professionals and align our development goals with theirs.