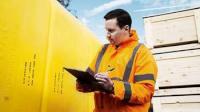 The oil and gas industry is by nature one of the most challenging environments in the world, so a high level of business integrity is critical to safely keep operations up and running. As a result of its commitment to continuous improvement in the industry, Trelleborg's offshore operation in England has been awarded an International Organization for Standardization (ISO) / Technical Specification (TS) 29001:2011 certification.
The standard defines the quality management system requirements for the design, development, production, installation and service of products for the petroleum, petrochemical and natural gas industries.
Ray Cann, Operations Director for Trelleborg's offshore operation, says: "Meeting the criteria involved creating and implementing detailed procedures and auditing, as well as facilitating various cross functional meetings with individual departments over eight months. In addition we had to complete three British Standards Institute audits - a pre-assessment and stage one and two audits.