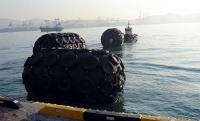 Remaining true to its principle of innovation, Trelleborg's marine systems operation has launched a new ISO17357-1:2014-compliant, high performance pneumatic fender designed to address the evolving needs of ports, terminals and offshore ship-to-ship transfer applications.
Trelleborg's new quality assured fender features a thinner, lighter body for easier transportation and handling, improved netting and hemispherical ends designed to offer superior functional performance and enhanced continuity of end fittings for optimum deflection capability.
Richard Hepworth, President of Trelleborg's marine systems operation, says, "In addition to improvements in the design of the fender, materials have been engineered to ensure a stronger overall performance. After detailed research into optimum tire cord reinforcement, we have re-evaluated our materials to enhance fender performance."
Unlike other manufacturers who use synthetic tire cords for only the body of the fender and chafer fabric at both hemispherical ends, Trelleborg now uses 100% synthetic tire cord for the construction of the entire fender. This directly enhances the fender's operational ability because synthetic tire-cord has a higher tensile strength than chafer fabric. By incorporating the synthetic tire cord into the entire fender, the stability, longevity, and shape retention of the fender are all significantly enhanced.
"Demonstrating our best practice approach to delivering superior products that incorporate optimum, high quality materials, our new pneumatic fender goes above and beyond the minimum requirements of the ISO 17357-1:2014 standard which recommends the use of synthetic tire-cords but does not make it mandatory," adds Hepworth.
Trelleborg not only meets but exceeds the demands of the ISO17357-1:2014 standard with quality assurance documents and test results shared in a comprehensive, fully-authenticated supporting document package. Proof data, inner and outer rubber material specifications and pressure test data are all included as standard for even greater peace of mind.