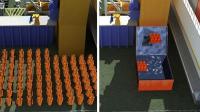 Trelleborg's offshore operation will showcase its latest developments in subsea insulation and flowline protection solutions, at next month's Subsea Tieback exhibition in New Orleans, Louisiana.
Located on stand 1,228, the organization will demonstrate a number of subsea flow control innovations, including its high performance Vikotherm™ insulation materials and advancements in its flowline protection solution, T-Strake.
Business Development Manager within Trelleborg Offshore, Doug Marti, commented: "Our Vikotherm insulation range ensures superior joint strength, increased thermal conductivity and heat capacity, as well as flexibility and resistance to the hydrostatic collapse of flowlines. As environments offshore grow harsher, high performance insulation solutions become increasingly more important to ensuring optimum uptime and efficiency.