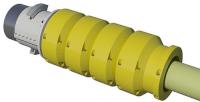 Trelleborg's offshore operation in the UK has been certified for the design review of its bend restrictors under the American Petroleum Institute's specification for flexible pipe ancillary equipment (API 17L1 Ed. 1 2013).
The certificate was awarded by Lloyds Register EMEA, acting as an independent verification agent. All verification was completed by conducting a thorough overview of the product range, design philosophies and extensive safety track record based on over 20 years of service experience. This was evaluated alongside Trelleborg's material qualifications, manufacturing processes and procedures. In addition, a manufacturing audit and site visit to the company's metal work supplier was undertaken.
Andrew Garside, Innovation and Technology Director within Trelleborg's offshore operation based in Skelmersdale, says, "Bend restrictors are required to perform in increasingly challenging offshore environments. For this, it is critically important that the combination of design expertise, qualification and compliance are fully supported by years of application experience. The API assessment is a detailed process, which put our design procedures of bend restrictors under stringent analysis. Receiving the certification demonstrates the performance of our bend restrictors, especially for use in challenging and harsh sea environments."
API 17L1 specification defines technical requirements for safe, dimensionally and functionally interchangeable flexible pipe ancillary equipment that is designed and manufactured to uniform standards. These industry standards determines the minimum requirements for the design, material selection, manufacture, documentation, testing, marking and packing of flexible pipe ancillary equipment.
Trelleborg's bend restrictors are used to protect flexible pipelines from over bending and buckling during their installation or operation phase where static loads are generated. The system comprises of interlocking elements that articulate in three dimensions when they are subject to external loads. At a designed radius, the elements mechanically locks to form a semi rigid curved structure that will not bend further. Bend restrictors are of split design to allow easy installation of the restrictor after pipe termination, meaning installation and maintenance is much simpler and more cost effective.