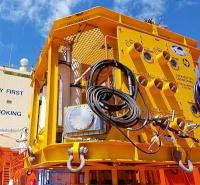 Trendsetter Engineering has successfully completed live well operations with their new 15,000 psi subsea hydraulic intervention system (referred to as STIM). The STIM system, which had previously been utilised for subsea hydrate remediation work, has now completed seven subsea projects in the GOM since November 2016, in water depths ranging from 2,500 feet to 7,200 feet. The recent live well operation campaign, which was conducted from February through March of this year, consisted of acid stimulation on three wells with water depths as deep as 7,200 feet, pressures up to 12,500 psi and sustained pump rates of 10 bbls per minute. The campaign was the first to be conducted with a hydraulic well intervention system certified by a BSEE approved independent third party as fully compliant with the new well control regulations.
"The deployment of our STIM system is another major step for Trendsetter as we continue our evolution from a subsea hardware provider to a comprehensive offshore oil and gas services company," says Mike Cargol, Vice President of Rentals & Services for Trendsetter Engineering. "The successful operations of our 15,000-psi hydraulic intervention system (STIM) on a live well signals the official entry of Trendsetter into the subsea well servicing market. Working with our Offshore Services Alliance partners C-Innovation and Halliburton, we are excited about what the future holds for both our company and this innovative team."
The Offshore Services Alliance was formed to allow Trendsetter Engineering, C-Innovations and Halliburton to leverage the companies' strengths and capabilities with the goal of providing integrated and value added solutions for subsea well intervention and subsea inspection, maintenance and repair (IMR) operations to offshore operators.
Trendsetter Engineering, Inc. is a privately owned oil and gas service company based in Houston, Texas which provides specialised subsea hardware and offshore service solutions globally from exploration drilling through abandonment.