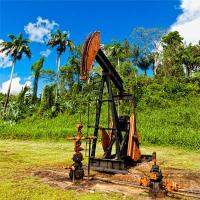 Trinity, the leading independent E&P company focused on Trinidad and Tobago, is pleased to provide an update on its Galeota license (the "Galeota License" or the "Block").
The Galeota License is one of Trinity's key assets. The recent announcement of the TGAL-1 exploration discovery provides additional confidence in the underlying resource potential of the Block. In order to improve drilling and operational efficiency and continue to build financial flexibility on the Block, Trinity is pleased to highlight the following:
Effective October 1st 2013, Trinity's joint venture partner Petrotrin has agreed to convert its 35% working interest in the Trintes field to an ORR. No other financial consideration is payable beyond the ORR. The net effect of the conversion is to increase Trinity's working interest in the field to 100% and adds an additional 13 mmbl in 2P reserves and c. 470 bopd of production. This ORR agreement only covers the Trintes field (which excludes the recent TGAL-1 discovery) and Petrotrin retains a 35% working interest in the remainder of the Galeota License.