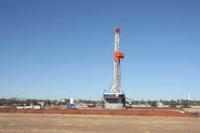 Triple Energy Ltd. provided the following update on the drilling activities on its Aolong Joint Venture project in China's Heilongjiang province.
Niaoshan-1 Well As of 10 am Aug. 24 the Niaoshan-1 well had reached a depth of 2,900 feet (884 meters) (measured depth) and had intersected the first of several prognosed coal seams (known as Seam #3).
The coal seam was intersected at a depth in-line with pre-drill prognosis, a 24.9 foot (7.6 meter) coal seam was intersected and cored. Coring recovery was 75 percent with 18.7 feet (5.7 meters) of core retrieved and containerized, as planned. The collected core samples have been secured into air-tight containers and sent to a laboratory for detailed analysis of gas content and reservoir characterization.