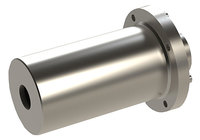 Trolex Engineering, designers and manufacturers of Electrical Slip Ring Units, has recently introduced the TX4849 Slip Ring to the company's range.
The Weather Protected Slip Ring is a compact 316L stainless steel unit which has a cover diameter of only 72 mm. The unit can house up to 16 rings, rated 12 Amps, 1,000 V per ring. In addition to electrical passes, the unit can also be combined with a fibre optic rotary joint, both single and multimode options.
Suitable for a variety of applications including ROV's, winches and seismic surveying, the unit has been design tested to meet IP66 ratings. The TX4849 has precious metal plated rings for low loss signal and is available with up to an M25 tapped entry, or connectors as a cost option.