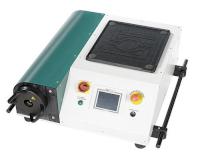 STAUFF Form is now available as a standard range: the tube forming system first presented at the Hannover Messe 2015 is the latest addition to the STAUFF Connect tube connection range. This brings the company another step towards being a one-stop supplier for tube connection technology with comprehensive development and manufacturing competence.
The new forming system features exceptionally easy installation and a particularly high level of reliability. The STAUFF form ring is pressed onto the tube end with a fixed and therefore captive elastomer seal. This creates a positive connection which provides a reliable, permanent and maintenance-free seal on the only possible leakage path when used in combination with a conventional fitting body with a 24° inner cone and a union nut compliant with ISO 8434-1. The sealing effect is supported by the system pressure of the hydraulic system, making the new tube forming system ideal for high pressure applications.
The STAUFF developers placed a special focus on the final, manual installation steps of the forming system in the fitting body. The installer tightens the union nut to the point where the force increases noticeably and completes the installation with another turn by 15° to 20° beyond this point. A clearly discernible torque increase indicates the end of the installation. That means: insufficient or excessive tightening is virtually impossible.
The forming process is also extremely user-friendly, with a compact, quiet forming machine which is operated via a touch pad with plain text display. Tube shapers, for example, can easily be changed via a bayonet lock. STAUFF Form is available for steel and stainless steel tubes with dimensions from 6 x 1.5 mm to 42 x 4 mm (Light Series) and 6 x 1.5 mm to 38 x 6 mm (Heavy Series).