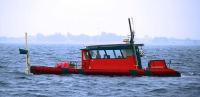 Following deliveries of ProZero vessels for aquaculture and windfarm supply, Tuco delivers 12-metre ProZero DC to Nelleman Survey A/S where it will serve as a platform for hydrographic surveys.
With its deep and sleek V-bottom, the 12-metre ProZero DC boat offers extreme seaworthiness and directional stability. Both are essential qualities when performing hydrographic surveys.
"Seaworthiness and directional stability are some of the most sought-after parameters when it comes to modern, high-speed workboats," says Martin Kyndi from Tuco Marine. "This is why we focus so strongly on exactly these parameters in our ProZero range of fast boats for professionals – even though, to some extent, it counteracts our stated ambition of offering boats that consume as little fuel as possible. A deep V-bottom simply requires more power than a flat-bottom, but what you gain is the secure and comfortable directional stability that our customers are looking for. Instead, the fuel savings are obtained through innovative solutions and weight reductions."
The boat is equipped with bow thrusters, double VHF, 4-kW radar, 12-inch multi-functional touchscreen, AIS, onboard video system with camera on both foredeck and aft, air suspended seats and a complete workstation for the hydrographic survey equipment. Once again, Tuco delivers a fully equipped boat.
The vessel is built from composite materials and is equipped with aluminium railings. Clever choice of materials contributes to the desired weight reductions and ensures low maintenance and superior strength. Thanks to the low weight and an inboard Volvo Penta diesel engine, the vessel can achieve top speeds of over 25 knots while fully loaded.
The 12-metre ProZero DC has to complete surveys with a fixed sonar as well as with towed equipment, and the boat has been fitted to perform these exact types of operations.
The work that Tuco puts into minimising the weight of the boat translates into an improved ability to carry out operations and surveys in shallow waters.
The ProZero boats are available in multiple versions, all of which are carefully tailored to suit particular user requirements. The cockpit layout in the workboats is arranged to maximise the use of state-of-the-art operations management and situational awareness electronic aids.